OPTIMAL RENTAL MANAGEMENT SYSTEM
RENTCAR is a platform for vehicle rental, operating on computers and mobile devices (smartphone, tablet). The system improves the management of the rental and at the same time simplifies the work of people servicing rentals. Thanks to our program, running a rental company becomes more effective. RENTCAR organizes rental procedures and at the same time provides information necessary to rent a vehicle. It ensures quick implementation and adaptation to the individual needs of the rental company.
We invite you to get to know the demo of the RENTCAR system. Access to the demo is free of charge, you only need to provide us with your company's data, and our consultant will send you the appropriate access to the demo of the system.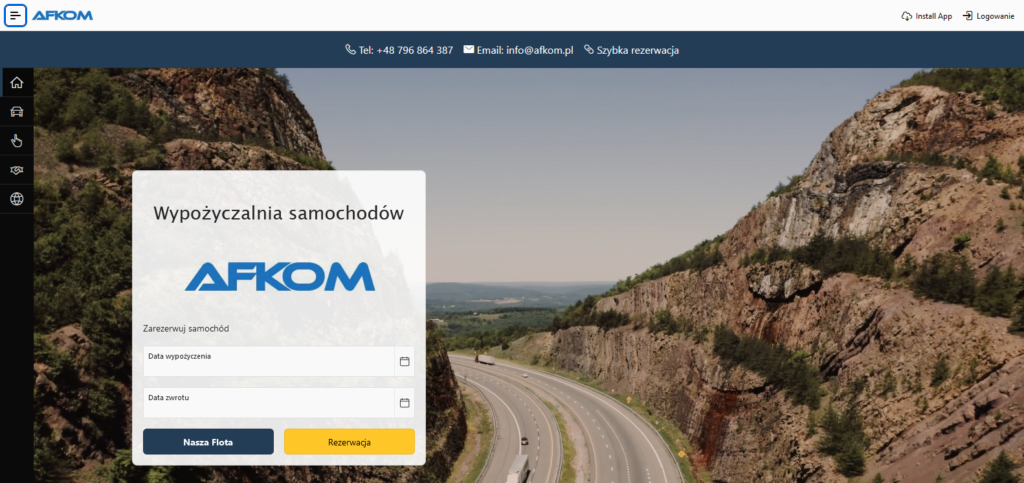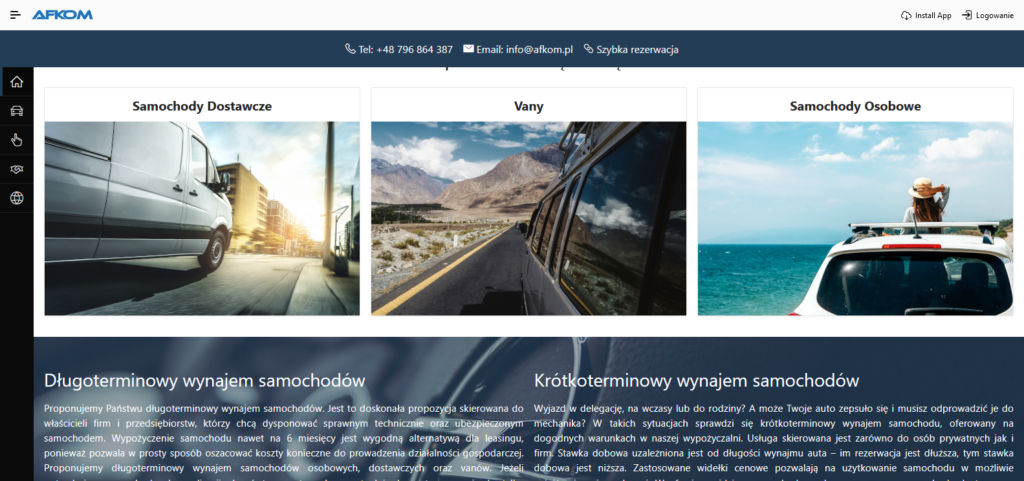 THANKS TO THE IMPLEMENTATION OF THE PROGRAM, YOU GAIN
INCREASE IN THE NUMBER OF RENTALS
User-friendly interface on mobile devices (93% of transactions on the Internet are concluded by smartphones)
Simplify operations by integrating the program with the system for invoicing and electronic payments
Flexible pricing for competitive discounts for new and existing customers
Improvement of processes taking place in the company
Faster and more effective rental service that translates into the satisfaction of new and returning customers to your company
Constant contact with the customer thanks to the application installed on the smartphone
LOWER COSTS, CONSTANT SUPERVISION
Effective financial planning and control of loans
Cutting red tape by introducing electronic documentation instead of paper documentation
Planning tasks related to rentals and current business activities
Improving the organization of work by reducing the time needed for customer service
EFFICIENT FLEET
Supporting maintenance and service activities
Accurate mileage control and the ability to monitor location and driving style (optional)
Extensive database (including vehicle database)
Rental reports and customer interest in the rental assortment
IMPROVE CUSTOMER SERVICE
Increase in customer satisfaction resulting from efficient control of the fleet status
Possibility to plan reservations and staff availability so that the service is "on time"
Streamline and accelerate customer service activities
Clear, ergonomic and aesthetic web forms
RENTCAR FEATURES
INTUITIVE
The main goal of the RENTCAR system is to improve the functioning of the rental company. It is easy to use and at the same time user-friendly. It does not require comprehensive, long-term training and additional courses generating unnecessary costs
Security
The system guarantees data security by storing them on servers with additional, unique security measures that minimize the risk of data loss and hacker attacks
MOBILITY
Access to the program 24 hours a day from any device (personal computer, smartphone, tablet). The program has the ability to install on a smartphone
SCALABILITY
Adaptation of the system to the individual needs of the rental company
PROGRESSIVITY
Modification of programs in accordance with the needs of users and the constantly changing reality
RENTCAR SYSTEM MODULES
Fleet Catalogue
Car booking
Administration panel
Mobile application installed on a smartphone
Integration with Invoicing and online payments
Blog
Online fleet monitoring
FLEET CATALOGUE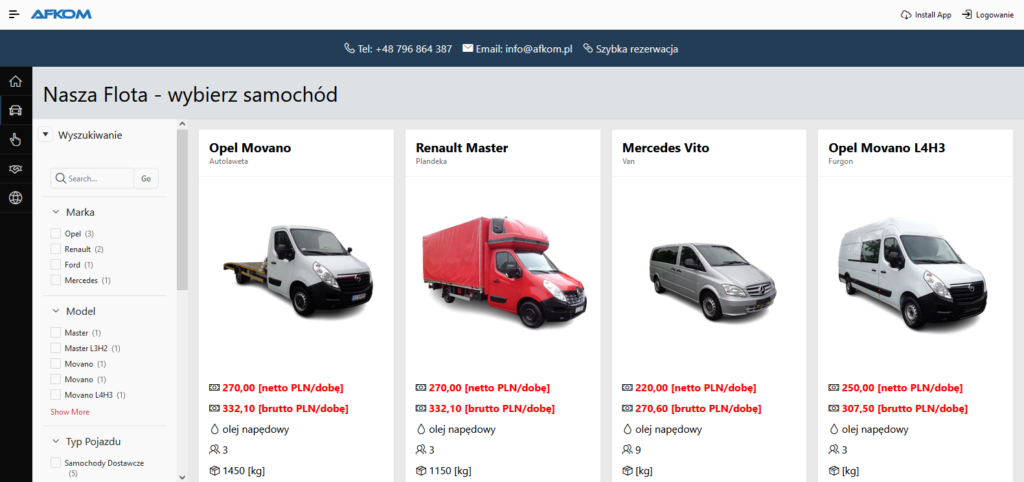 Basic car data
Car details
Car photo gallery
Search filter
Car booking calendar in the car data window
Possibility to assign multiple cars of the same model in one catalog item
CAR BOOKING
Quick booking (one form)
Multi-stage booking similar to shopping in an online store through the following steps
Possibility to choose the booking date via the calendar in the car data window
Preview of car reservations in real time in the car data window
Calculation of simulated rental costs including discounts
Cost simulation sent in an e-mail
E-mail notifications about a new booking
E-mail notification of changes in the reservation and its status
Contact page with contact form
ADMINISTRATION PANEL
Fleet management
Manage your bookings
Corporate Data Management
Discount management
Program interface configuration management
Management of regulations and security policy
E-mail notifications about new and modified reservations
Reports
MOBILE APPLICATION ON SMATRFON
Install the icon on your phone's desktop
View apps in full screen on your phone
PUSH notifications on the phone screen
User Geolocation
Add photos to the program directly from your phone's camera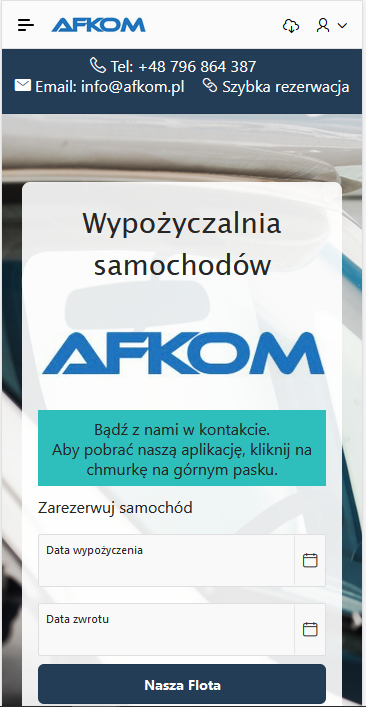 INTEGRATION
Integration with Paynow online payments
Integration with Invoicing – invoicing
Blog
Publishing content in the form of a blog on the rental website
ONLINE FLEET MONITORING
Car monitoring with GPS devices
AS PART OF THE COOPERATION UNDERTAKEN, WE PROVIDE
implementation of the programme
adaptation of the application to the individual needs of the rental company
hosting on a secure server
training related to the operation of the program
implementation and post-implementation support